15 June 2020
Next trade fairs
Join us at the start of October 2020 on various French and European events. On this occasion, we will be delighted to be able to meet and exchange ideas together.
We will be delighted to meet you and exchange with you during the next events: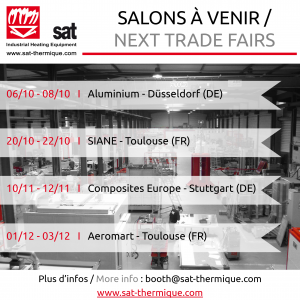 To meet us, make an appointment now with our sales force : booth@sat-thermique.com
Do not miss any of our news, join us on LinkedIn, Twitter and Youtube.