25 June 2021
Upcoming fairs
We look forward to seeing you at the next physical shows in which we will participate!
Come and meet us at the following events :
Global industrie – 06 to 09/09/2021 – Lyon, France : The major international meeting for industry in France. It is also the meeting place for excellence and industrial prospects bringing together MIDEST, INDUSTRIE, SMART INDUSTRIES and TOLEXPO.
Aluminium – 28 to 30/09/2021 – Düsseldorf, Germany : The world's leading trade fair for aluminum and its applications. We look forward to seeing you at booth 9A32 !
SEPEM North – 12 to 14/10/2021 –  Douai, France : This show offers practical solutions to all manufacturers in the North region, regardless of their sector of activity from. Join us booth H7E4!
SIANE – 19 to 21/10/2021 – Toulouse, France : The trade fair for industry partners. Come and meet us on booth F67!
We look forward to seeing you again and being able to introduce you to our businesses & our expertise! In the meantime, make an appointment now with our sales force : booth@sat-thermique.com or +33 (0)4 79 61 71 44.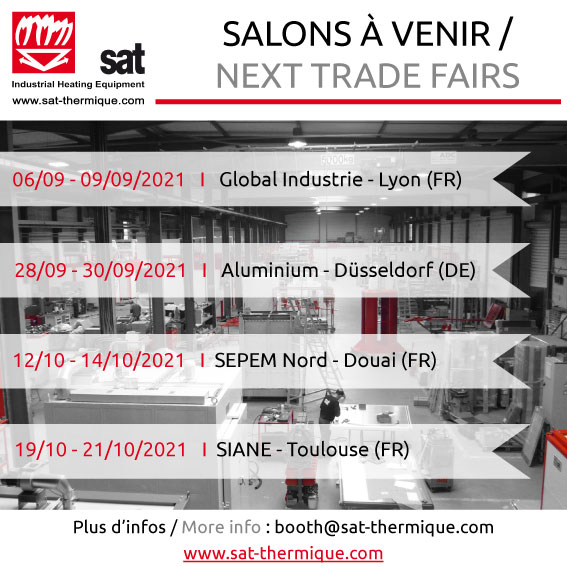 Don't miss any of our news, join us on LinkedIn, Twitter and Youtube.